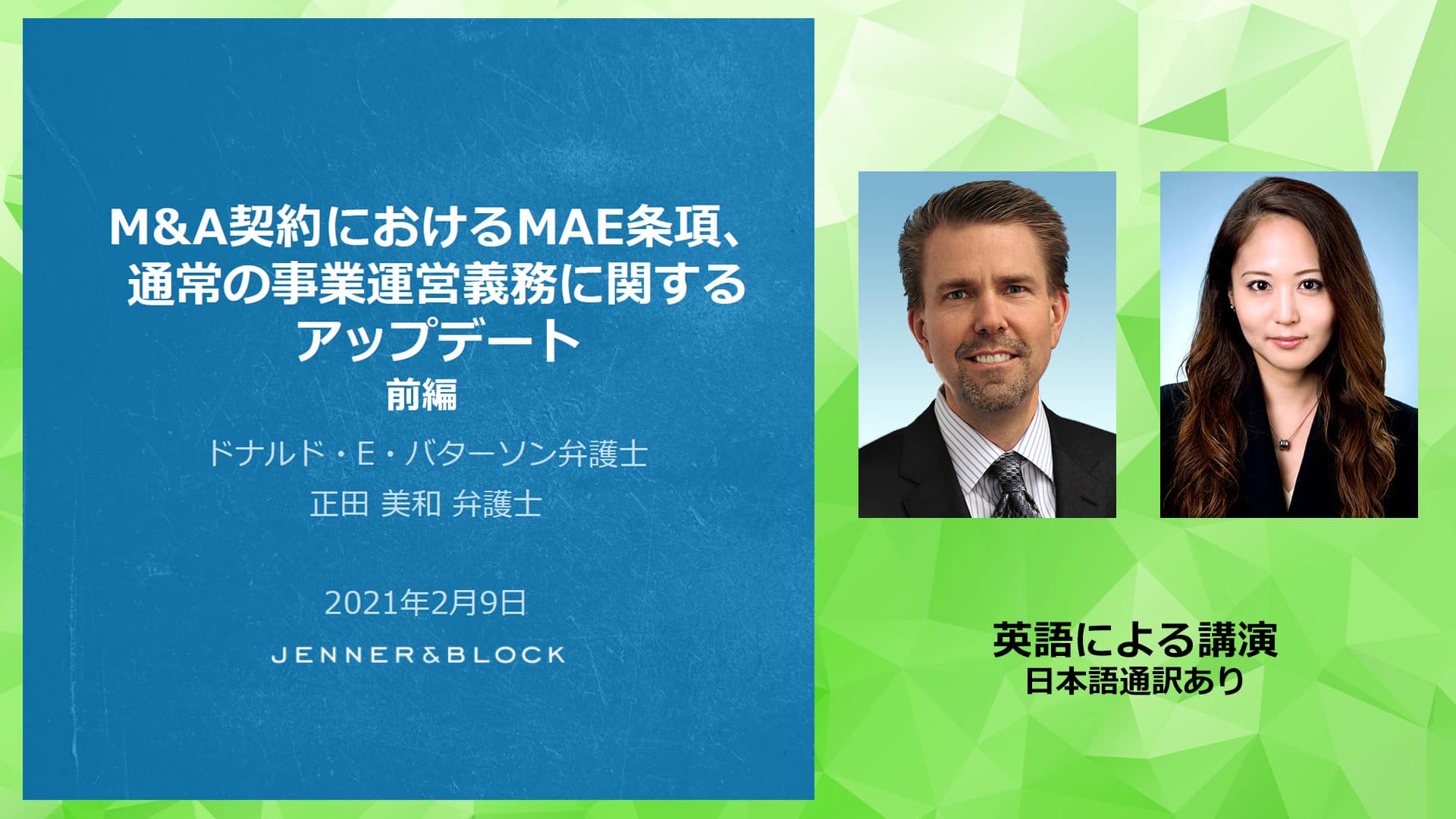 M&A契約におけるMAE条項、通常の事業運営義務に関するアップデート 前編
2021年3月1日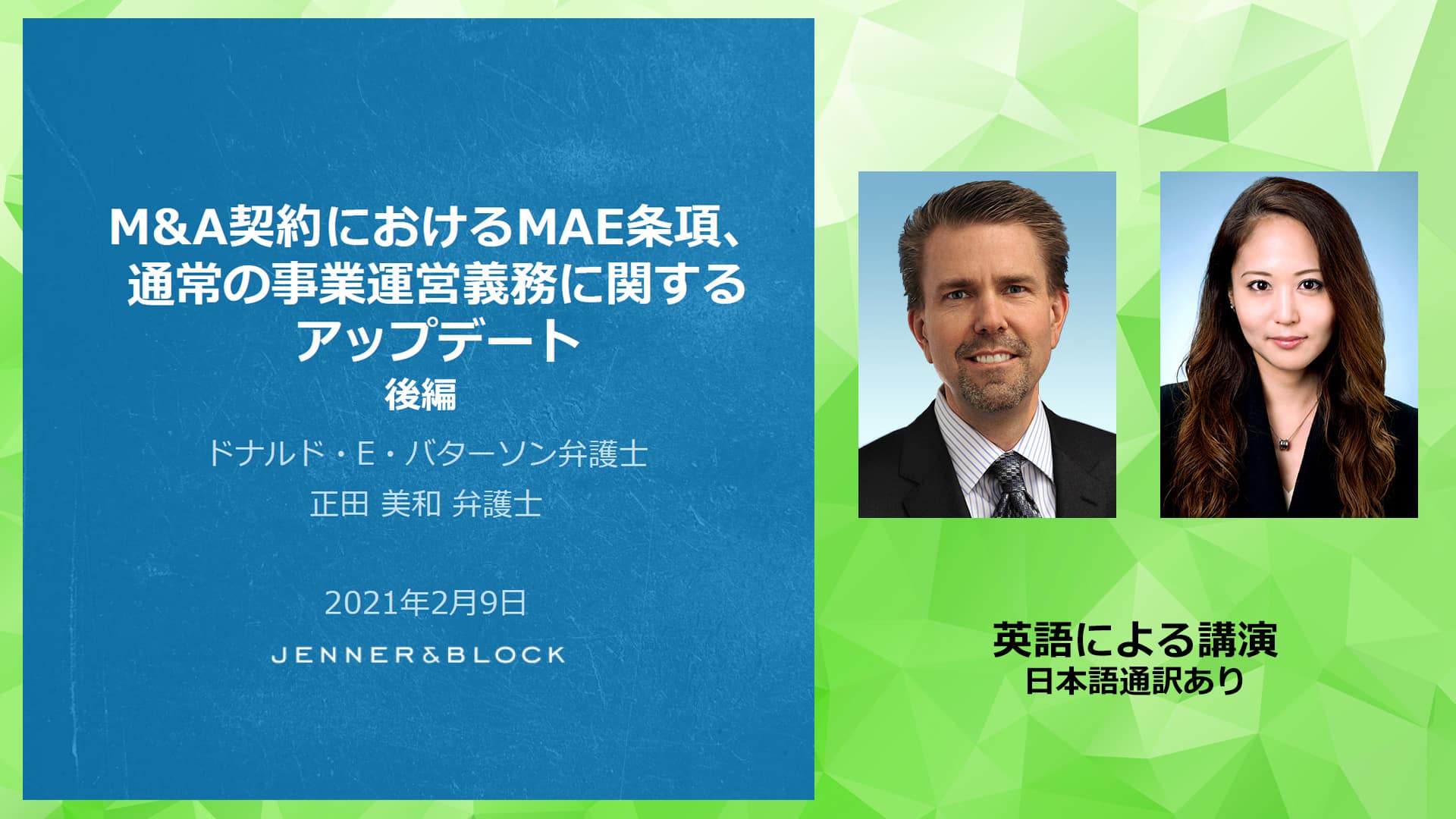 M&A契約におけるMAE条項、通常の事業運営義務に関するアップデート 後編
2021年3月5日
2021/Feb/11th, FRONTEO × Toyota Motor North America × Orrick Joint Webinar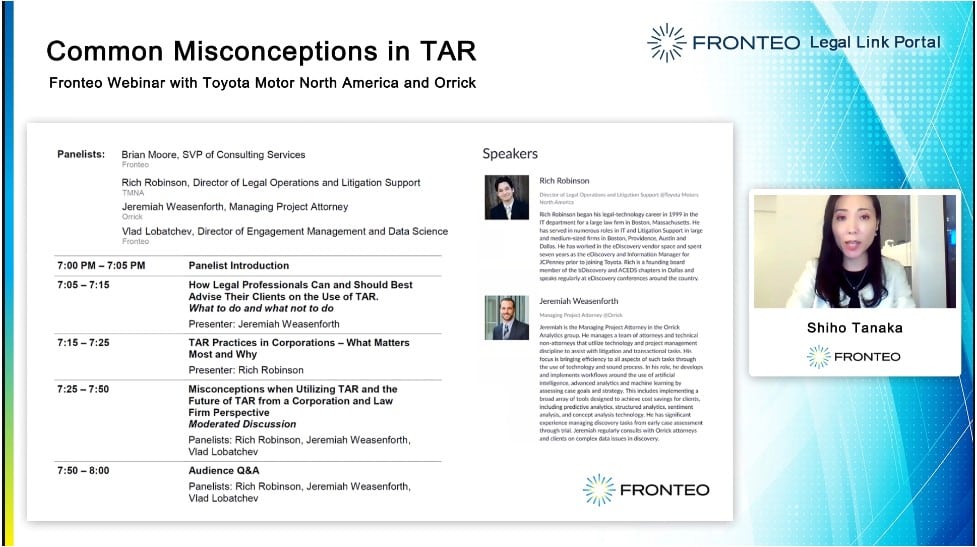 【Please login to download the material of the webinar.】
Sessions
"How Legal Professionals Can and Should Best Advise Their Clients on the Use of TAR. What to do and what not to do"
Presenter: Jeremiah Weasenforth (Managing Project Attorney @Orrick)
"TAR Practices in Corporations – What Matters Most and Why"
Presenter: Rich Robinson (Director of Legal Operations and Litigation Support @Toyota Motor North America)
"Misconceptions when Utilizing TAR and the Future of TAR from a Corporation and Law Firm Perspective (Moderated Discussion)"
Panelists: Rich Robinson, Jeremiah Weasenforth, Vlad Lobatchev
会員のみ、視聴いただけます。
弁護士事務所、当社の同業者及びフリーメールアドレスの方は登録をご遠慮いただいております
2021/Feb/11th, FRONTEO × Toyota Motor North America × Orrick Joint Webinar
【Please login to download the material of the webinar.】
Sessions
"How Legal Professionals Can and Should Best Advise Their Clients on the Use of TAR. What to do and what not to do"
Presenter: Jeremiah Weasenforth (Managing Project Attorney @Orrick)
"TAR Practices in Corporations – What Matters Most and Why"
Presenter: Rich Robinson (Director of Legal Operations and Litigation Support @Toyota Motor North America)
"Misconceptions when Utilizing TAR and the Future of TAR from a Corporation and Law Firm Perspective (Moderated Discussion)"
Panelists: Rich Robinson, Jeremiah Weasenforth, Vlad Lobatchev
Speakers
Rich Robinson, Director of Legal Operations and Litigation Support (Toyota Motor North America)
Rich Robinson began his legal-technology career in 1999 in the IT department for a large law firm in Boston, Massachusetts. He has served in numerous roles in IT and Litigation Support in large and medium-sized firms in Boston, Providence, Austin and Dallas. He has worked in the eDiscovery vendor space and spent seven years as the eDiscovery and Information Manager for JCPenney prior to joining Toyota. Rich is a founding board member of the bDiscovery and ACEDS chapters in Dallas and speaks regularly at eDiscovery conferences around the country.
Jeremiah Weasenforth, Managing Project Attorney (Orrick)
Jeremiah is the Managing Project Attorney in the Orrick Analytics group. He manages a team of attorneys and technical non-attorneys that utilize technology and project management discipline to assist with litigation and transactional tasks. His focus is bringing efficiency to all aspects of such tasks through the use of technology and sound process. In his role, he develops and implements workflows around the use of artificial intelligence, advanced analytics and machine learning by assessing case goals and strategy. This includes implementing a broad array of tools designed to achieve cost savings for clients, including predictive analytics, structured analytics, sentiment analysis, and concept analysis technology. He has significant experience managing discovery tasks from early case assessment through trial. Jeremiah regularly consults with Orrick attorneys and clients on complex data issues in discovery.
資料ダウンロード・お問い合わせ
資料ダウンロードやお問い合わせはこちらから行えます。下記フォームの区分から、ご希望の項目をお選びください。